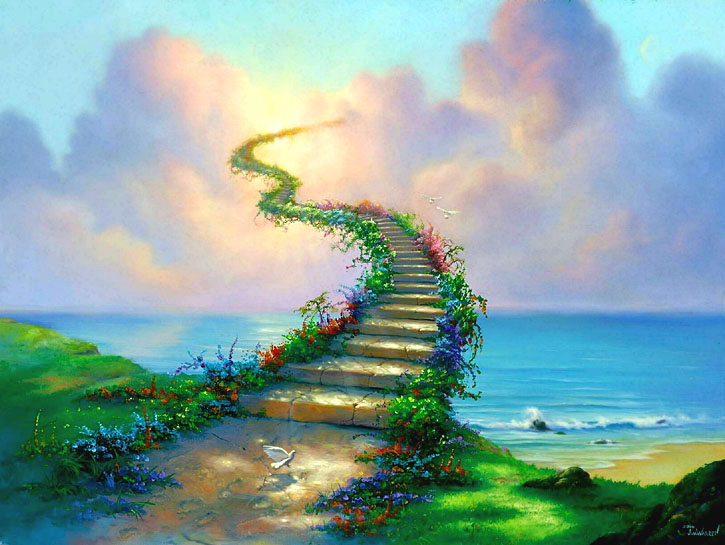 "There's a lady who's sure all that glitters is gold..."
Apparently this week has been deemed "Step Up Saturday" by the suits running college football. Not sure quite how that affects anything, but I'm sure they feel important. Nice to see my column makes its triumphant return after a semi-break. Almost didn't get a chance to write this because my carpet's being torn up in order to make way for wooden floors, however I found a way to deliver for you, the reader(s). Poll time!:
1. Ohio St.
2. Auburn
3. USC
4. Florida
5. Michigan
6. West Virginia
7. Louisville
8. LSU
9. Texas
10. Oregon
11. Texas
12. Georgia
13. Iowa
14. Notre Dame
15. Oklahoma
16. Clemson
17. Georgia Tech
18. Tennessee
19. California
20. Boise St.
21. Missouri
22. Nebraska
23. Rutgers
24. Virginia Tech
25. Wake Forest
Heisman Race:
1. Troy Smith QB
163.8QBrat 1070yds 12TDs 2INTs
Prediction: vs. BG 13-18 220yds 3TDs; 1rush TD
2. Adrian Peterson RB OK
117rush 643yds 5.5ypc 7TDs
4rec 72yds 1TD
Prediction: vs. Tx 30rush 150yds 1TD
3. John David Booty QB USC
145.2QBrat 966yds 10TDs 2INTs
Prediction: vs. Wash 20-30 240yds 3TDs
4. Mike Hart RB UM
135rush 672yds 5.0ypc 5TDs
5rec 56yds
Prediction:vs. MSU 25rush 145yds 1TD
5. Steve Slaton RB WVU
86rush 583yds 6.8ypc 6TDs
4rec 47yds
Prediction: vs. Miss St. 18rush 130yds 2TDs
Last Week: 9-7-1
Overall: 60-35-2Auburn -15 Arkansas
The Razorbacks have had a week to celebrate their big win over Alabama, so the whole "coming out flat following an emotional win" theory is out. Tough to pick a team to win by 15 in an SEC game, especially since Arkansas really isn't that bad. Not too confident about this one, but I'm staying on the Auburn bandwagon.
Aub 26 Ark 10
Iowa -11 Purdue
Yeah, so I was forced to help myself to a serving of crow after Iowa lost to tOSU last week. I has predicted they would win that before the season, and was telling anyone who would listen that they would win. Apparently no one let Troy Smith know about my prediction and he proceeded to make me look foolish. Whatever, this week Iowa throws it all over Purdue.
Iowa 40 Purdue 27
Oklahoma +4 Texas
Without Vince Young, I'm sensing this feud returns to its old ways with The Sooners winning. Even though Sooner fans have become almost as unbearable as Seahawks fans with their whining, they do deserve a little help from the football gods this week.
Ok 20 Tx 17
USC -19 Washington
SC's schedule has been tougher than I thought it would be. Nebraska's good, and wins in Arizona & Washington St. were tough. I don't think Washington has it in them to do into SoCal and hang around all game. A win against UCLA is impressive, but that was at home USC is a much better team than UCLA.
USC 37 Wash 16
*!!*Shit games*!!*:
West Virginia -21
Mississippi St., Notre
Dame- 29
Stanford,
Ohio St. -35
Bowling Green,
Boise St. -36
Louisiana Tech.
Florida -2 LSU
The biggie of the weekend. This one is a tossup for me, both defenses are incredible, and both teams will likely have no success on the ground. The game comes down to big plays in the passing game. JaMarcus Russell's been great this year, but I'm taking Chris Leak & Co. People could die in this game. Watch out for that.
UF 10 LSU 7
Maryland +14 Georgia Tech
At this point, I'm taking the points in every ACC game.
GT 23 Mary 14
Iowa St. +7 Nebraska
Before the season, I knew this game would decide the Big 12 North. Of course, with Missouri's emergence, I may be wrong, but I have to think whoever wins this is in the driver's seat. ISU has been a guilty pleasure of mine for 2 years, and this is more a gut pick than using silly things like knowledge and fect and all that crap.
ISU 27 Neb 23
Michigan St. +15.5 Michigan
15.5 just seems like a ridiculous amount of points to give to State. Stanton will get them in the endzone and have success against the UM D. Besides, no rivalry game should have a spread the large.
UM 31 MSU 24
Missouri +4 Texas Tech
Missouri, quietly, has been a much better team without Brad Smith. I certainly didn't forsee that coming. Tech is Tech. Very meh. I always hate picking their games because they're inconsistent.
Mizzu 33 TxTech 28
Tennessee -2 Georgia
The fact that Tereshinksi's starting, mixed with my hatred of Phil Fulmer makes this tough for me to do, but Georgia's looked BAD the last 2 weeks. Can Tereshinski come in and make everything better right away? And against that Tennessee defense? Yeesh. Of course, now that I'm picking Tennessee, Erik Ainge will remember to suck.
Tenn 16 UGA 13
Oregon +5 California
Cal's pretty much screwed me everytime I've picked one of their games. Oregon's the better team, and if they win this, you have to think they're the favorites to win the Pac-10. You heard me, USC.
Ore 32 Cal 24
Special 2 in 1 Upset Special/LOW Pick: Wake Forest +16.5 Clemson
Is it me, or is every ACC game decided by 7 points or less? Wake's much better than a 16.5 point line, but I still think Clemson gets by with the win.
Clem 31 Wake 27